How To Apply Project Management Principles in Innovation Program?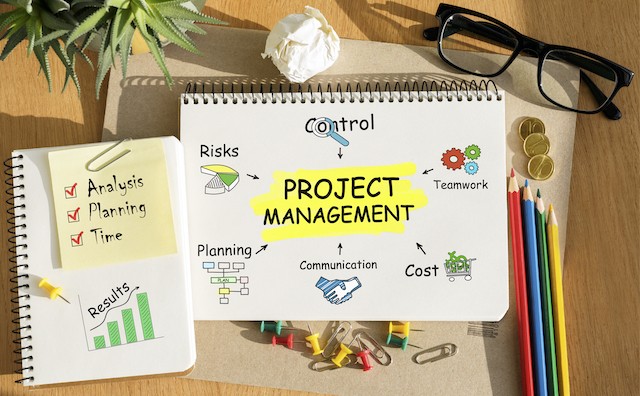 I have got my resources and influenced by "The Corporate Startup" Book (Tendayi Viki) and Brightline-PMI Principles.
Everyone in the business world seems to talk more about innovation but how does innovation take place? Most business owners don't know that innovation can foster an organization by applying some of the best project management principles.
Why are innovation programs important?
Steve Eppinger, a professor at the Massachusetts Institute of Technology, said that "Businesses thrive on innovation." According to the 2015 Innovation survey, 82% of organizations and executives in the UK fail to distinguish how they can use innovation to achieve incremental gains in performance. In another study, it has been reported that companies consistently struggle with innovation because of traditional developmental and research processes.
Innovation is not a state or end-result but a continuous process that is achieved through adequate planning and having a clear vision towards what you seek to achieve.
8

Project Management Principles
Project management is an essential but complex practice to undertake in the business world. However, it can make the innovation process easier to follow and understand. Many organizations from all over the world using these principles to enhance their innovation capabilities at all organizational levels.
For instance, you want to impress your boss with an idea, a new initiative that, according to you, can reduce operational costs and increase business.
It doesn't matter how great your idea is, you cannot execute it without a plan. You are more likely to fail miserably at your mission and may even lose your job.
Instead, you move forward carefully and develop a concrete strategy for the project, adding key elements such as goals, purpose, timeline, and budget, etc. You aim to make sure the project doesn't suffer from ambiguity and handles unexpected emergencies smoothly. For that, you need project management so that you can complete your project successfully.
Project management principles allow overseeing an endeavor resulting in a service, product or change. Here are the project management principles that can increase your chances of becoming more successful in the business world.
Principle 1: Project Goals and Objectives
The first principle of project management is understanding the goals and objectives. In simple words, what you hope to accomplish and what drives the project. Once you are able to determine what you wish to accomplish, structuring the path forward becomes easier.
All projects are mere ideas before they turned into reality. The book The Corporate Start-up in that regard says that:
"Ecosystem cannot thrive without a great innovation practice in place"
The above statement indicates that innovation practices require a certain environment for the team and individuals where they are goal-oriented.
Principle 2: Budgeting
Once the goals and objectives have been established, you start how you will accomplish them.
At this stage, you will be able to discover the project constraints. This will impact your ability to achieve project aims, exactly the way you planned. However, one of the biggest challenges that you'll face is the budget.
The purpose of innovation program is to ensure that your project is managed within the budget. Managing a project under a strict budget is also one of the key necessities of being innovative.
This is no surprise that teams are often asked to do more with less. You're more likely to face a similar situation in your business at some point. When you have an approved budget, make sure that you don't go overboard with something. Setting your project priorities straight should be your primary responsibility.
Principle 3: Scheduling and Estimating
Another major challenge that you'll face is time. Some might even say, time is more valuable than money. Scheduling and estimation will ensure your innovation process is continuous and consistent.
According to the Journal of Project Management, the schedule must focus on when activities will be carried out. You need to consider certain factors such as bandwidth, vacations and prior commitments.
Principle 4: Team Responsibilities
Delegating and defining team responsibilities among your team is an important task that needs to be dealt with efficiency. It is recommended that you create a checklist that dictates what task will be done by which team member and when.
It is increasingly difficult to innovate alone. The process requires collaboration between teams and individuals where all understand their roles and responsibilities. When everyone in the team is familiar with his or her responsibilities, innovation takes place in a systematic manner.
Principle 5: Defining Milestone
Defining milestones or creating short-term and long-term goals can boost team morale and keep them motivated. Setting small incentives once a milestone is completed can also help in speeding up the process.
The innovation program requires team members to define their targets and milestones that need to be achieved. Innovation cannot thrive without a clear vision of when and how targets will be achieved.
Principle 6: Managing Change
Sometimes during the course of the project, disruptions can take place, and the only way to cope up is to be flexible in your approach and making changes where necessary. You must ensure that your team is ready to adapt to such changes and changes take place without causing any noticeable delays.
Innovation is all about being adaptable and flexible enough to cope up with the changes that have been taking place in the industry and consumer behavior. Our innovation program will ensure that you stay true to this principle.
Principle 7: Responsibility and Accountability
This is an important part of any project management process. The project manager and the managers need to have a sense of accountability and take responsibility for their actions. This not only increases the credibility of the work but also increases communication between teams and individuals.
Innovation requires every individual in the organisation to undertake responsibilities and be accountable for the whole creative process.
Principle 8: Measuring Success
In the book, The Corporate Start-up, the author states that
"A system, or a group of interconnected elements, formed by the interaction of a community of organisms with their environment. Any system or network of interconnecting and interacting parts, as in a business."
Project management teams are interconnected with each other. Any fault in one aspect can impact the entire process. Constant reflection is important; therefore, it informs the managers and team members where the fault lies and what needs to be changed.
Other than that, if you calculate the ROI, you can easily measure whether the project was a success or failure.
Importance of Project Management Principles
It doesn't matter if this is your first project ever or you're a certified project manager, what's important is that you understand the basic principles of project management to make sure your initiatives run successfully and smoothly.
In simple words, Project Management Principles break the process into five broad stages:
Initiation: This process outlines the project and obtains the necessary approval in order to begin
Planning: This stage develops the plan for project management and how the goals will be achieved
Execution: This stage takes place at the completion of the project defined by the plan
Monitoring and Controlling: The process reviews and tracks the progress of a pre-determined work while also taking unplanned changes into account
Closing: This is the final stage where the project work is entirely complete, and approval from stakeholders has been received
As far as innovation program is concerned, we focus on the element of co-creation where the customer is involved in the process of product or service creation. This is a necessary process to promote organization growth, as well as for the launch of new services, brands, products, and divisions.
Project Management Professional (PMP)
PMP is one of the most important and industry-recognized certifications for aspiring project managers. It is the gold standard of all PM certifications. It not only validates your competence as a project manager, but it also tests your skills as a credible project manager rigorously.
A PMP is one of the most valuable assets for an organization. A certified PMP will not only make the organization more competent but will also ensure all projects are completed on time, meet their desired goals, and remain under the budgeting limit.
Many times, people often think of project management as an enemy to innovation. That's not true. It requires skills and expertise to ensure the project gets completed on time under the allotted budget. However, experimentation within departments is also important as it carries the essence of true innovation.
The biggest problem with project managers nowadays is that they are highly conventional. They need to develop a culture of innovation in the organisation and that is what the program seeks to address.
Tendayi Viki, Dan Toma, and Esther Gons decided to write a book to provide their insights on this particular subject. Their primary objective was to help all budding entrepreneurs stuck in the "innovation paradox."
For many aspiring individuals, The Corporate Start-up is not just a book; it's a toolkit or a roadmap that informs its readers on How to create an ecosystem within your firm. The book is a perfect fit for anyone who is interested in innovation and wants to dive deeper. It also lays different KPIs and metrics for every stage involved in the innovation process. Everyone who is looking for a step-by-step guide to innovation can benefit greatly from this book.
Bottom Line!
From a professional business perspective, business managers and strategists should always give themselves some room for flexibility. A certified PMP illustrates agile learning and design thinking approaches in their projects to make the workflow risk free and efficient.
Given this understanding, it is safe to say that project management is not just about efficient management of tasks but also thinking outside the box, on its edge, flag, and under the bar code as well.
The overall purpose of Thinkinova is to bring positive changes to corporate cultures. We cultivate disruptors in the industry and aim to make business professionals operate, think and accomplish like entrepreneurs. For further details gain benefits of unorthodox business tactics, call us now. We'd love to hear from you.
If you are interested to know more about our program for Innovation and Project Management, and how we can tailor it as your needs, please check our services page.
Summary
Article Name
How To Apply Project Management Principles in Innovation Program?
Description
The project management processes fall into five major categories: initiating, planning, executing, monitoring, and controlling, and closing. Project management principles are highly effective in their application in business innovation programs. Read the article to learn how.
Author